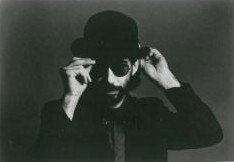 Here you will find a few interviews, profiles, promotional bios, etc., concerning Tonio K. These will either enlighten you or confuse you further (probably both). Credit is given wherever possible. Thanks to Dan Wall and Roddy Smith for sending these in, and to Carl "Bugs" Simmons for his help with transcription.
First off, we have a bio from an Epic Records press kit, issued to support Life in the Foodchain.
One of the more unusual Tonio K. promotional items was a Life in the Foodchain coloring book that folded out into a poster. Here's the cover of the coloring book, and here's what the poster looked like—before anyone colored it in.
Next is a Foodchain-era interview from an unnamed source.
Another interview circa Foodchain—this one's from Rolling Stone.
A trio of odd promotional items—namely an Amerika button, a Notes note cube, and a Foodchain fork (that's right, a fork).
Following is a 1980 profile of Tonio by the legendary Steve Simels, one of Tonio's most vocal supporters.
Here is another promotional bio, this time from Arista Records in support of Amerika. Thanks to RHAD for the link.
The so-called "Holy Grail" of Romeo-era Tonio K. interviews: the cover story from the October 1986 issue of CCM magazine by Chris Willman (who now writes for Entertainment Weekly and mentions Tonio every chance he gets).
A nice interview from the Los Angeles Times, Dec. 11, 1986.
An advertisement for Romeo Unchained that appeared in CCM, featuring excerpts from many complimentary reviews.
What 10 recordings would Tonio K. take to a desert island? Find out in this list from the December 1988 issue of Pulse!
A reprint of an interview from Harvest Rock Syndicate, around the time Notes from the Lost Civilization was released.
A 1988 discussion from BAM magazine.
From Tonio's lost years in Austin, Texas, when he was performing with 16 Tons of Monkeys, here's a profile reprinted from the Austin Chronicle.
Tonio recently scored his biggest press coup in years: a cover story in the May 7, 1999, issue of Goldmine. For those of you who missed it, here it is.
More to come—stay tuned.